As the Soviet Union was collapsing, Francis Fukuyama proclaimed "The End of History" in the late 1980s: Western-style democracies featuring freedom of speech and a free market economy would reach a point at which they permanently defeated socialism. Thirty years later, the situation around the globe is a very different one and, thus, it comes to no surprise that the Bulletin of the Atomic Scientists put their doomsday clock to two minutes to midnight in 2018, citing numerous smoldering or active conflicts.
Even in the age of complete digitalization of all areas of life, such complex diplomatic challenges may only be solved when deciders meet. Following this ideal, the Munich Security Conference gathers for the 55th time in order to discuss the urgent issues of our time – this year, with an extraordinary focus on the trans-Atlantic relationship.
Not just the United States' delegation is bigger than ever – the Young Transatlantic Initiative sees its highest number of young professional members gather for our fourth Munich Security Conference weekend. Special attention has been given to three panel discussions organized by our Initiative in co-operation with the Munich Security Conference foundation as Side Events. For the first time, we are looking forward to hosting many external guests who are cordially invited to sign up through the respective links below to our events:
NATO Defense Contributions: Is Germany Stepping up?
Friday, February 15, 1:00 PM, at Amerikahaus München – Bavarian Center for Transatlantic Relations
Following the end of the Cold War, NATO's scope of tasks has strongly moved away from the traditional threat scenario as new challenges arose. This move also affected the ability of member countries to defend themselves. Together with an unwillingness to assume responsibility in matters of security policy, Germany's so-called Friedensdividende (peacetime dividend) prepared the field for insufficient defense spending and American criticism aimed at this issue. Is Germany's contribution to international security to be measured in defense spending alone, though? Is there a European solution facilitating increases in security without spending more?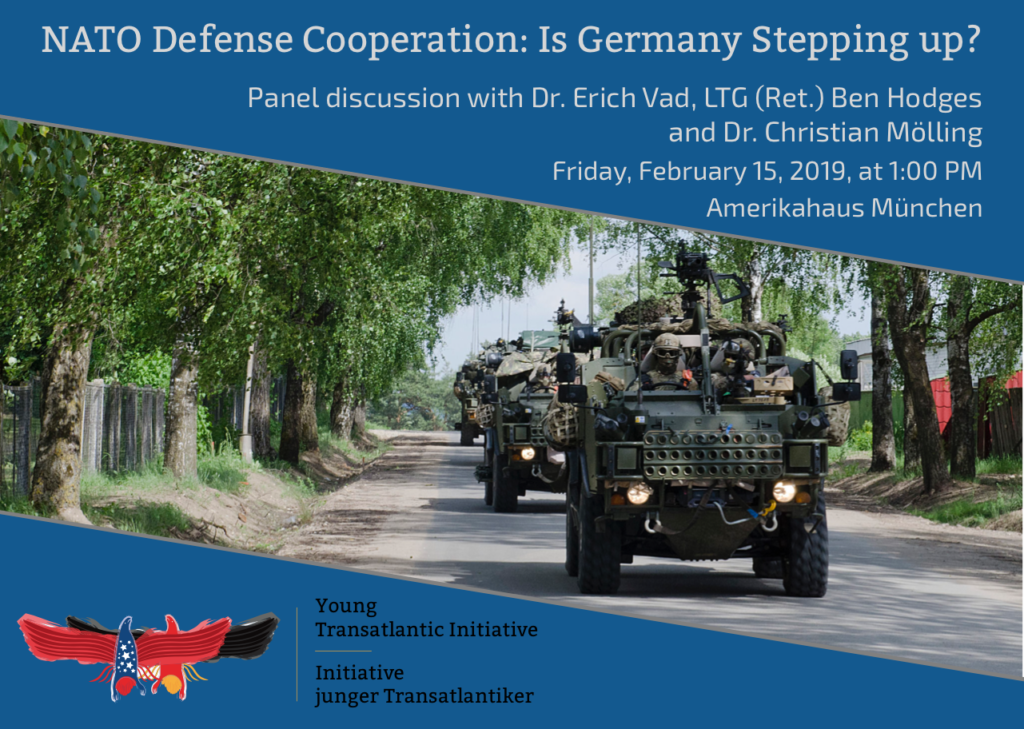 Digital Diplomacy: A Canadian Perspective
Friday, February 15, 4:00 PM, at the General Delegation of the Government of Québec
Digitalization of society affects all areas of life and work – this includes the work performed by diplomats and governments as well. What do Facebook, Twitter, and blogs mean to their daily efforts on an international level? Assumptions regarding alleged manipulation around the U.S. Presidential Elections 2016 and leaked data from leading German politicians at the beginning of 2019 showed clearly that the digitalization of political matters for diplomacy, elections, and democratic discourse, in general, brings significant risks. We take a look at Canada where federal elections are happening in late 2019. Which chances and risks come with an increase in digitalization? Who is addressed by social media foreign policy and how?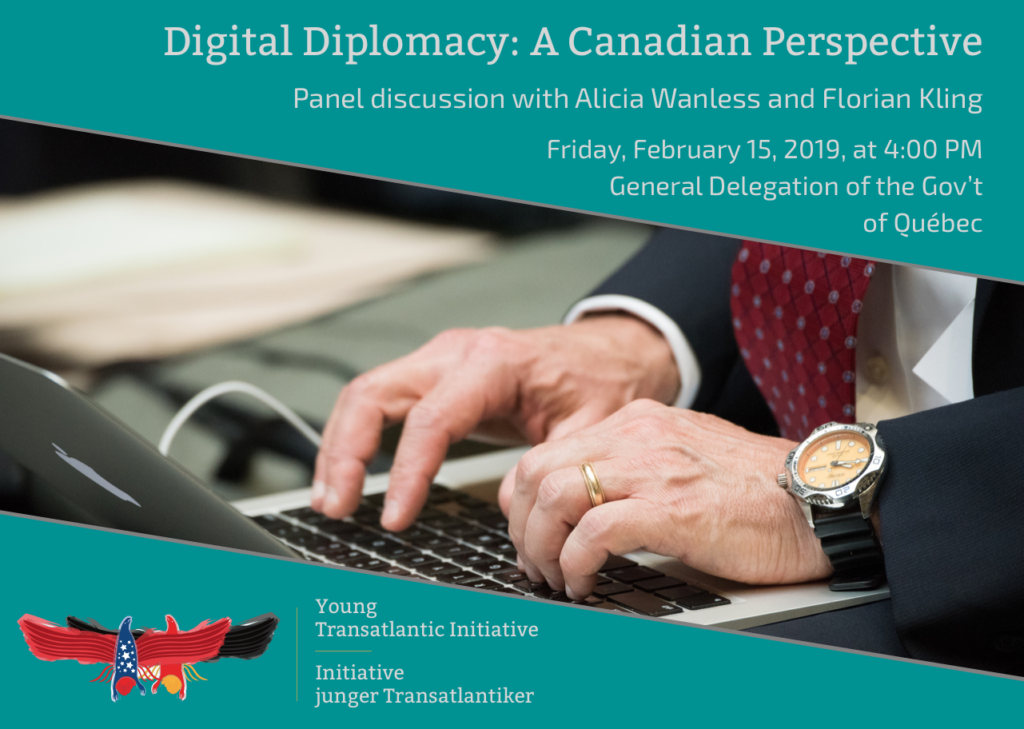 Germany and the UNSC: More Than Just Good Intentions?
Saturday, February 16, 1:00 PM, at Amerikahaus München – Bavarian Center for Transatlantic Relations
Once more, Germany is a non-permanent member of the United Nations Security Council in 2019 and 2020. Foreign Minister Heiko Maas considers the Federal Republic capable of taking on more responsibility in international issues – how is this role supposed to be filled, though? Furthermore, the objective of granting the EU permanent membership in the UNSC might lead to conflicts of interest. In addition, points of view are shifting when it comes to the UNSC. The United States did not manage to reach a solution for humanitarian crises such as the one in Yemen with the support of the UNSC. At the same time, established democracies such as Canada strive for membership, attempting to pursue their diplomatic concepts.